The best advancements in reproduction and genetics
Boviteq is working with veterinarians at accredited satellite OPU sites across the US. "We're extremely excited about working with beef and dairy clients across the country, assisting them to implement genetic and reproductive activities on their farms," says Brad Sayles, Embryo/IVF Marketing and Client Management for Boviteq. "Boviteq is home to the industry's very best advancements in reproduction and genetics. Our embryo and IVF (In Vitro Fertilization) techniques have been extremely successful for the commercial and purebred breeder alike, and with OPU services we're able to serve an even greater customer base.
For additional client inquiries and for more information on training to become an accredited veterinarian providing OPU services, please contact:
Dr. Shantille Kruse, IVF Program Liaison at SKruse@boviteq.com
At Boviteq we want to be a true partner in your success, working shoulder-to-shoulder with you from training to certification and through on-going support. Our goal is to form lasting partnerships, offering clients superior OPU and IVF services. We have an excellent staff that is dedicated to helping our veterinarians set up donors properly in order to collect the highest quality oocytes. In order to ensure continued success and leading-edge services, we dedicate 3% of our revenues annually to on-going research and development.
OPU AND IVF: AN OPPORTUNITY FOR BOVINE PRACTITIONERS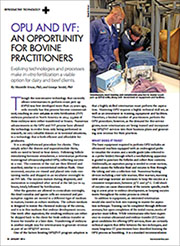 OPU Center Locations
Boviteq
Madison, WI
boviteqUSA@boviteq.com
www.boviteq.com
Phone: 608-838-2504

Bovine Health Services
Dr. Dustin March
College Station, TX
ddmarsh09@gmail.com
Phone: 210-241-6672

Countryside Veterinary Clinic
Dr. Richard Geary
St. Anthony, ID
gearydvm@gmail.com
www.countrysidevetidaho.com
Phone: 208-624-1711

DeWitt Veterinary Clinic
Dr. Phil Reemtsma and Dr. John Kormann
DeWitt, IA
dewittvetivf@gmail.com
www.dewittvetclinic.com
Phone: 563-659-5231

GGS Genetics
Dr. Bryce Slavik
DeWitt, MI
ggs.genetics@gmail.com
www.ggsgenetics.com
Phone: 517-641-7453

High Desert Veterinary Service
Dr. Dean Lusk
Jerome, ID
luskdean@hotmail.com
Phone: 208-312-4584

Keller Veterinary Services
Dr. Wes Keller
Humboldt, IL
wmkeller1@gmail.com
www.kellerclubcalves.com
Phone: 217-962-1286

Mardale Embryo Transfer
Dr. Tom Kuhn
Shelbyville, IN
mardale2@comcast.com
Phone: 317-866-3636

Pipestone Veterinary Clinic
Dr. Brett Kroeze
Pipestone, MN
bkroeze@pipevet.com
www.pipevet.com
Phone: 507-215-2510

Twin Spruce Farm Collection Center
Dr. Brett Kroeze
Richmond, MN
bkroeze@pipevet.com
www.pipevet.com
Phone: 507-215-2510

Rome Veterinary Center PC/Endless Mountains Veterinary Center
Dr. Ben Laudermilch
Rome, PA
vets@emvets.com
www.emvets.com
Phone: 570-247-7862

SVS Repro
Dr. Dan Gander
Darien, WI
svsrepro@yahoo.com
www.statelinevetservice.com
Phone: 262-749-1441

StockVets
Dr. Dave Dixon and Dr. Jake Hege
Rensselaer, IN
info@stockvets.com
www.stockvets.com
Phone: 219-866-3636

Tufts Ambulatory Service
Dr. Kevin Lindell
Woodstock, CT
Sarah.Bowley@tufts.edu
vet.tufts.edu/tufts-ambulatory-service
Phone: 401-639-5175

Pineland Farm Collection Center
Dr. Kevin Lindell
New Gloucester, ME
kevin.lindell@tufts.edu
vet.tufts.edu/tufts-ambulatory-service
Phone: 860-974-2780

Vermont OPU Collection Center
Dr. Kevin Lindell
Whiting, VT
kevin.lindell@tufts.edu
vet.tufts.edu/tufts-ambulatory-service
Phone: 860-974-2780

Twin River Veterinary Services, L.L.C.
Dr. Justin Powell
Tremont, IL
jpdvm10@gmail.com
Phone: 262-613-3371

Pasture View Angus Collection Center
Dr. Justin Powell
Dunlap, IL
jpdvm10@gmail.com
Phone: 262-613-3371

River Valley Farm Collection Center
Dr. Justin Powell
Tremont, IL
jpdvm10@gmail.com
Phone: 262-613-3371

Valley Veterinary Clinic
Dr. Steve Cove
Seymour, WI
docstevecove@gmail.com
www.vvcvets.com
Phone: 920-621-1367

Vintage Veterinary Services
Dr. Jeremy Block
Ocala, FL
jblock@vintageveterinary.com
Phone: 352-219-9813

White Oak Veterinary Clinic, P.C.
Dr. Bill Croushore
Berlin, PA
whiteoakvetclinic@gmail.com
www.whiteoakvetclinic.com
Phone: 814-267-4411

Angus Hill Collection Center and Donor Housing
Dr. Bill Croushore
Randolph, NY
whiteoakvetclinic@gmail.com
www.whiteoakvetclinic.com
Phone: 814-267-4411

Brook Corner Holsteins Collection Center
Dr. Bill Croushore
Lebanon, PA
whiteoakvetclinic@gmail.com
www.whiteoakvetclinic.com
Phone: 814-267-4411

Herr Angus Collection Center
Dr. Bill Croushore
Nottingham, PA
whiteoakvetclinic@gmail.com
www.whiteoakvetclinic.com
Phone: 814-267-4411

Pennwood Farm Collection Center
Dr. Bill Croushore
Berlin , PA
whiteoakvetclinic@gmail.com
www.whiteoakvetclinic.com
Phone: 814-267-4411

Pencroft Farm Collection Center and Donor Housing
Dr. Bill Croushore
Belleville, PA
whiteoakvetclinic@gmail.com
www.whiteoakvetclinic.com
Phone: 814-267-4411

Mark Frederick Collection Center
Dr. Bill Croushore
Martinsburg, PA
whiteoakvetclinic@gmail.com
www.whiteoakvetclinic.com
Phone: 814-267-4411

Twin Oaks Farm Collection Center
Dr. Bill Croushore
Mercersburg, PA
whiteoakvetclinic@gmail.com
www.whiteoakvetclinic.com
Phone: 814-267-4411

Bovagen Collection Center and Donor Housing
Dr. Bill Croushore
Lake City , SD
whiteoakvetclinic@gmail.com
www.bovagen.com
Phone: 816-465-1546